Growing up, I always had an interest in photography. Over the years I've been emailing photos to my sister Linda and other family members, but not always successfully. I recently reconnected with my cousin Pat and started emailing her my photos too. She is a web designer and suggested we team up to create a simple site for me to share my photos.
This passion has allowed me the opportunity to meet so many wonderful people, several of them becoming my new friends with whom I can enjoy both my birding and photographic adventures - Paul, Phyllis, Joanne, Barbara, Tom, Sharon, Harris, and Betty, only to mention a few. Thanks for all your friendships.

Photography is a means of meditation for me, as I am swept away in the beauty of these winged creatures of nature.
MY EQUIPMENT: I am currently using the Canon 40D along with the 300mm f4L lens and 1.4X extender. Possibly down the road I may progress to a longer lens; but for right now, this combination is working for me. I'm rapidly discovering, once you get hooked on this hobby, you can never have enough equipment!
All photographs on this website are copyright protected and are not in the public domain. Any and all photographs remain the intellectual property of Donna Faylo and may not be copied, transmitted, reproduced, manipulated or altered in any way. If you have any questions about my photographs, contact me.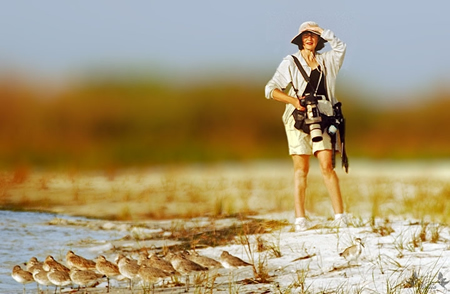 Photo by Klaus Peter